AVA Future Special Programs
Notice to all participants: Most programs allow the participants up to (12) twelve months starting from the official end date to complete any Special Program.
Completed
books are to be returned to the point of contact or club hosting the program to receive recognition and award.
Our appreciation goes to all Committee Members of the Special Programs for the hard work in implementing and maintaining the programs as well as the financial contributions made to AVA as a result of each of the Special Programs.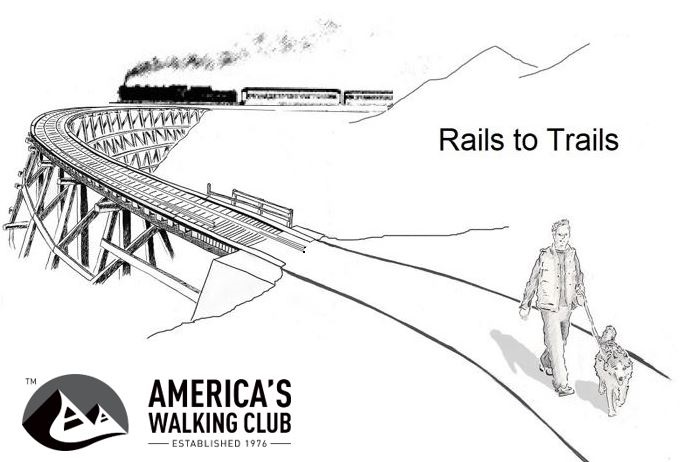 Rails-to-Trails
Program runs January 1, 2022 - December 31, 2025. Redeem completed books by Dec. 31, 2026. Any sanctioned YRE, seasonal, or traditional event that walks/bikes on a portion of an official Rails-to-Trails Conservancy identified trail (which can be found at https://www.traillink.com/trailsearch/ ) qualifies. One stamp per event per year except for "Guided Trail" events which use the same stamp – in this case the sanction number identifies a unique event. Special Program Booklet contains room for 16 stamps.
To purchase a Special Program Booklet, send check for $12 to Colorado Springs Walking Club; 3524 N. Cascade Ave, Lot #58; Colorado Springs, CO 80907. You may mail your completed book to Sherry Sayers, 3524 N. Cascade Ave., #58, Colorado Springs, CO 80907, or scan image of your completed book and email it to cswc@avaclubs.org. A 3"x4" award patch similar to the one pictured here will then be mailed to you.
POC: Sherry Sayers, 719-640-6745, cswc@avaclubs.org.
Town Halls/City Halls
The program runs 1 January 2022 to 31 December 2024. Redeem completed books by 31 December 2025. Complete 15 AVA sanctioned walks that include a town/city hall building must be marked as such or have a plaque as a historic site of one. A hall may only be used once, even if multiple walks go by it. The patch (image soon to be added) depicts the Ashland town hall and the Fredericksburg city hall, both in Virginia.
Cost of the program is $10. Order books from Peninsula Pathfinders, 302 Queens Crescent, Williamsburg, VA 23185. Make checks payable to Peninsula Pathfinders.
POC: Sandy Croushore, (757) 532-3468, szcroushore@verizon.net.