AVA Current Special Programs
Notice to all participants: Most programs allow the participants up to (12) twelve months starting from the official end date to complete any Special Program. Completed books are to be returned to the point of contact or club hosting the program to receive recognition and award.
Our appreciation goes to all Committee Members of the Special Programs for the hard work in implementing and maintaining the programs as well as the financial contributions made to AVA as a result of each of the Special Programs.
For POC information on Ended Special Programs:

Click Here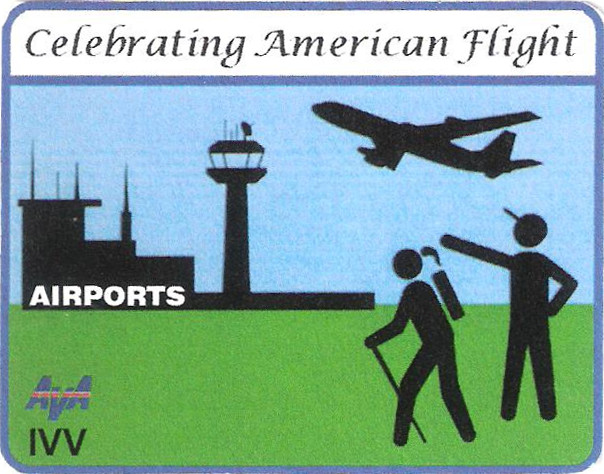 Airports - Celebrating American Flight
Program runs January 1, 2020 – December 31, 2022. Redeem completed books by Dec 31, 2023. The program includes major Metropolitan and International Airports, smaller Regional Airports, Small Regional Airfields, and even Military Airfields if the walk criterion is met, but Heliports or Helipads do not count. The qualifier is meant to define that the walk must be near enough to see airport operations., The walk needs to be along a roadway or pathway adjacent to, abutting, or such similar terms to the Airport property line. Cost of book is $10. Qualifier is 12 different AVA sanctioned events (Same walk/different year = different walk event.) Patch is 3 ½ x 4 1/2" multicolored embroidered patch. Make checks payable to Seneca Sugar Loafers, P.O. Box 3716, Gaithersburg, MD 20885-3716 gamesterz@aol.com 301-540-0466.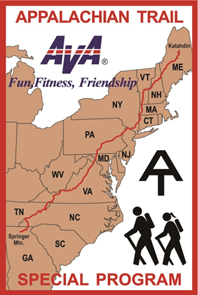 Appalachian Trail
Program starts January 1, 2018 – December 31, 2028. Redeem books by December 31, 2029. The Appalachian National Scenic Trail is the famous hiking trail in the eastern United States from Springer Mountain in Georgia to Mount Katahdin in Maine. The trail is roughly 3,500 km long and goes through 14 States. Walkers are required to hike/walk a section of the trail in each state. A qualifying AVA walk is one that goes on the AT or a blue-blazed trail for at least 4 km. An AVA walk will count for only one state; the sponsoring club will determine which one. Complete the 14 required events; Traditional, Seasonal, or YRE as indicated in the booklet. You must pay for each event. Each AVA stamp can only appear once in the book. Use of the On Line Start Box is approved. Due to the unique nature of this program, participants have space in the program book to add a picture, notes, and other local stamps such as the Park or AT Passport stamp. Book cost is $10. The patch is 4" x 6". Checks are payable to AVA National Headquarters, send to POC Susan Medlin, 12527 Fern Creek, San Antonio, Texas, 78253. Make checks payable to AVA. Please note on the check it is for "The Appalachian Trail SP". Submit completed books to the same address. The POC can be contacted at (210) 325-3523 or email sueammed@aol.com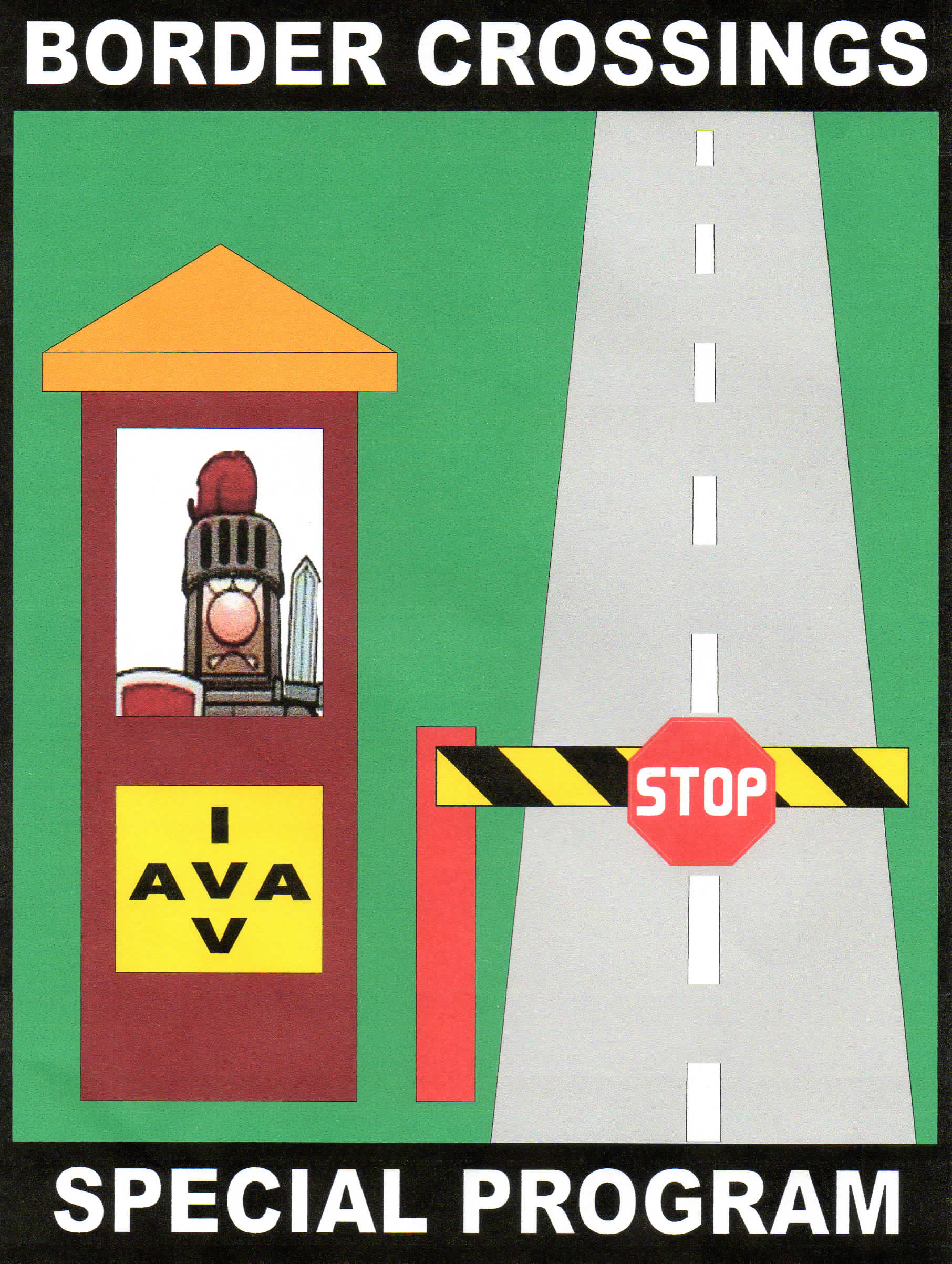 Border Crossings
Program runs January 1, 2014 - December 31, 2023. Redeem completed books by Dec. 31, 2024. This program includes a Passport as well as a patch. The participant must physically cross the border from one state to another while on a volkssport event. Walking, swimming, biking and cross-country ski events all count. Borders between counties do not count unless they are in different states. International borders will also count as long as they are part of an IVV event. This program covers a 10 year period, which is conducive to a regular US Passport. The objective is to encourage volksmarchers to have fun, finding those unique trails that have border crossings at State Lines, Canadian Provinces, and international borders. Every state has a border with another state or country with the only exception being Hawaii. The program will encourage clubs in different states to work together in setting up a border crossing event. This program requires you to purchase a passport booklet with more to do than just stamp the book. You will be asked to submit a photo of your border crossing and thus make it a personal mini photo album or you can keep notes to make it a mini journal of your adventures. Some may want to do the same border crossing on 15 different days. This will be allowed but make it fun by dressing up in different clothes, wear a different hat, carry a stuffed animal, toy, etc.; in each photo. Qualifier for 15 sanctioned events. Cost of book (passport) $10. Make check payable to Michigan Pathfinders and mail to: Tom Crabill 725 Lake Drive, Coldwater, MI 49036. Patch: 3" x 4". Sponsored by the Michigan Pathfinders, email tjcrabill@gmail.com phone 260.409.1659.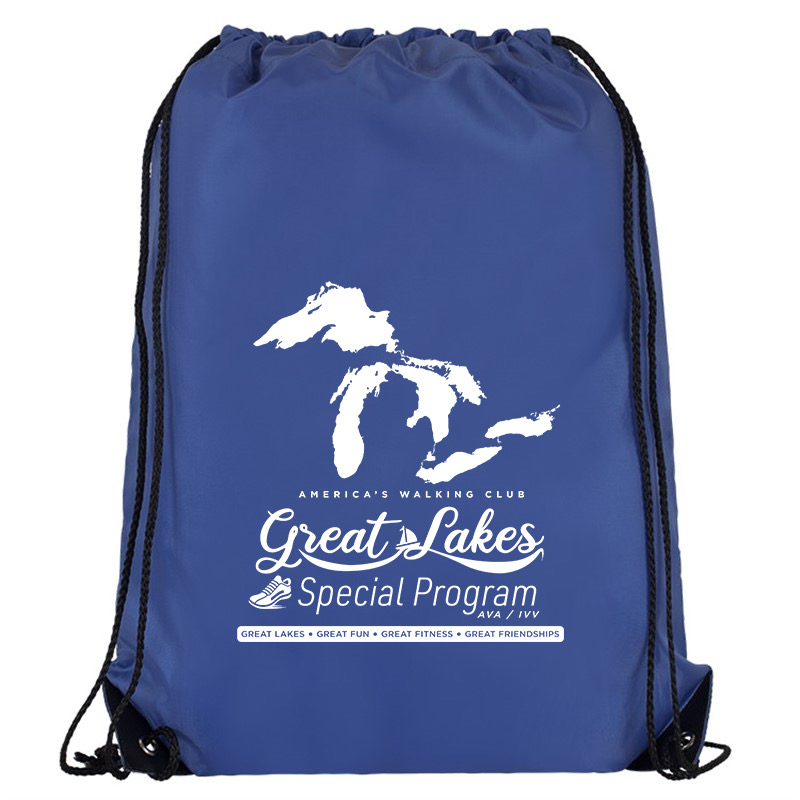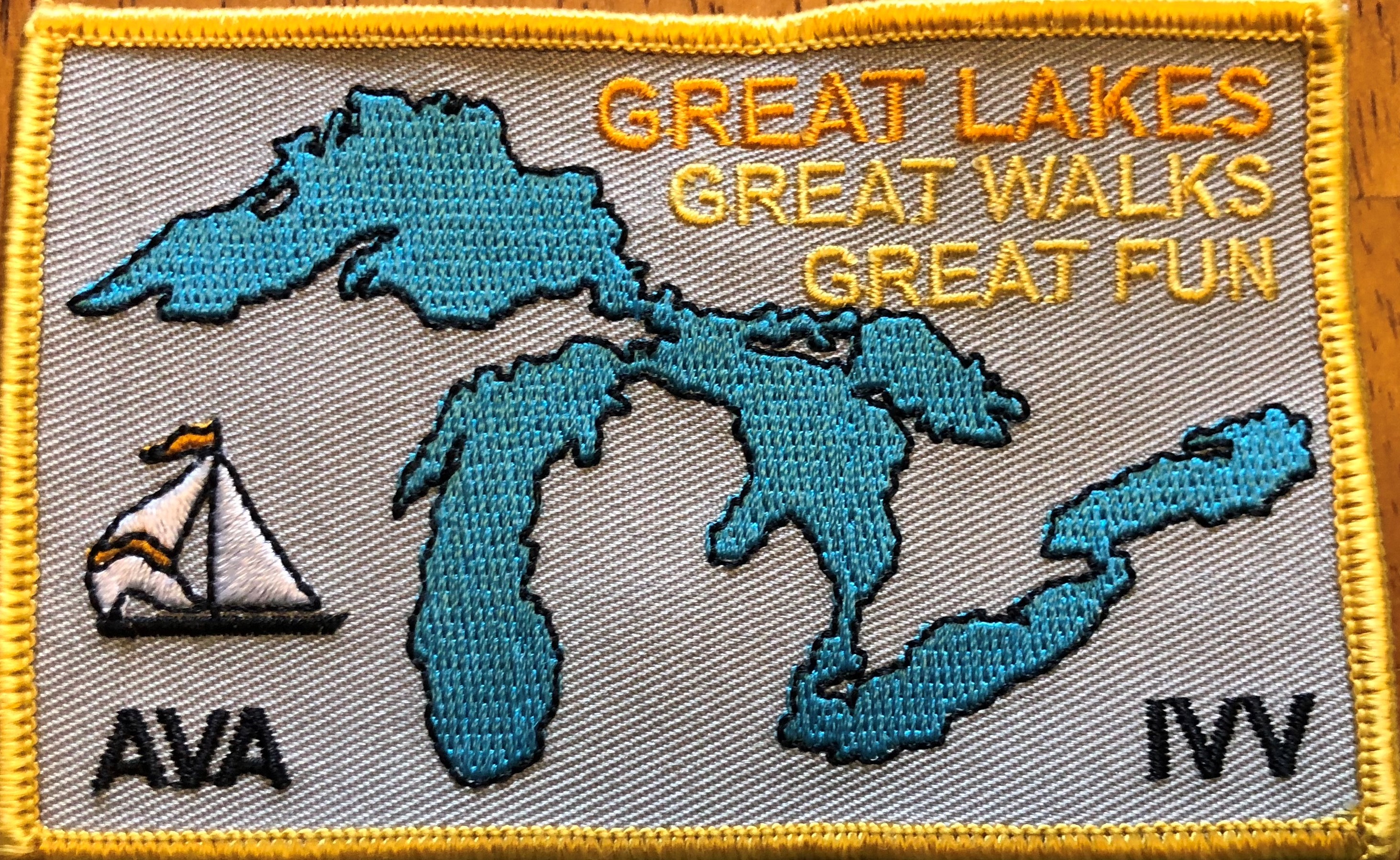 Great Lakes, Great Fun, Great Fitness, Great Friendships
Program runs from January 1, 2021 – December 31, 2023. Redeem completed books by Dec 31, 2024. To successfully complete this program, participants must accomplish 12 AVA-sanctioned popular sport events in the USA of any type -- which includes YRE, seasonal, traditional, guided walk, or any other AVA program using the IVV/AVA stamp -- which travels along a Great Lake; or on, beside or inside a street, building, city, school, or any other "physical thing" with a Great Lake name associated with it. Great Lakes are Huron, Erie, Superior, Ontario, and Michigan. Just being in the state of Michigan does not qualify. Examples of qualifiers would be Huron Street, Ontario City, Erie Canal, or anything else that uses one of the five names. The logbook will require three separate Great Lake names to be included in the twelve events. The special program collects the "qualifiers" so each qualifier (specific street, building, or other thing, or any sanctioned trail along a great lake) can only be used once in an event logbook or once in a year, whichever comes first. An event with multiple qualifiers can be done again for the additional "finds." This means that once a walker fills up a logbook with 12 different qualifiers, they can use the same ones over in another purchased logbook. If a logbook is used over multiple years, the new IVV/AVA stamp with a different year allows the use of the same qualifier in the same book. For each qualifying name record the IVV stamp (OSB stamps and insert cards will be excepted) and write the date, name of the walk or walk number and the Great Lake name. Upon completion of a logbook, participants are eligible to receive a string backpack with the program's logo. There will also be an option to purchase an event patch. See also, The Great Lakes, Great Fun, Great Fitness & Great Friendships Special Program Facebook Page. The book cost is $12 that includes a book and a string backpack award upon receipt of a completed book. A legacy patch is available for an additional $2. Make checks out to the Sponsor: Washtenaw Wanderers Volksporting Club and send checks to the POC: Roxie Weaver, 126 S Reese St, South Lyon, MI 48178. Contact POC if you wish to pay by credit card. Additional POC contact information: geiserweaver@gmail.com Phone - 616-745-9624

IVV-Americas
Program starts on December 1, 2022 with no end Date. In 2022, the America's Walking Club joined the IVV-America's regional organization. The regional organization hosts its own special program that asks its participants to participate in 20 - IVV events anywhere in the Western Hemisphere, especially in the national associations of the AVA and the Canadian Volkssport Federation (CVF). In anticipation of the association assuming the Oceania area of Australia and New Zealand, any event in those countries and the South Pacific also will count. Successful participants will earn a certificate or a certificate and a patch depending on the award that they pre-register for when they sign up. Participants in the United States may register by sending a check for $10 USD (certificate only) or $12 USD (certificate and patch award) made out to "IVV-Americas" along with the following information: full name, address, email, and phone number to: Walk Special Program (IVV), c/o Walking Club, PO Box 2422, Woodbridge, Virginia 22195. Finished books will be sent to the IVV-Americas administration in Canada. Books can be ordered from POC: Tim Miner Phone - (703) 583-2916 or timothy.miner@walkvirginia.org.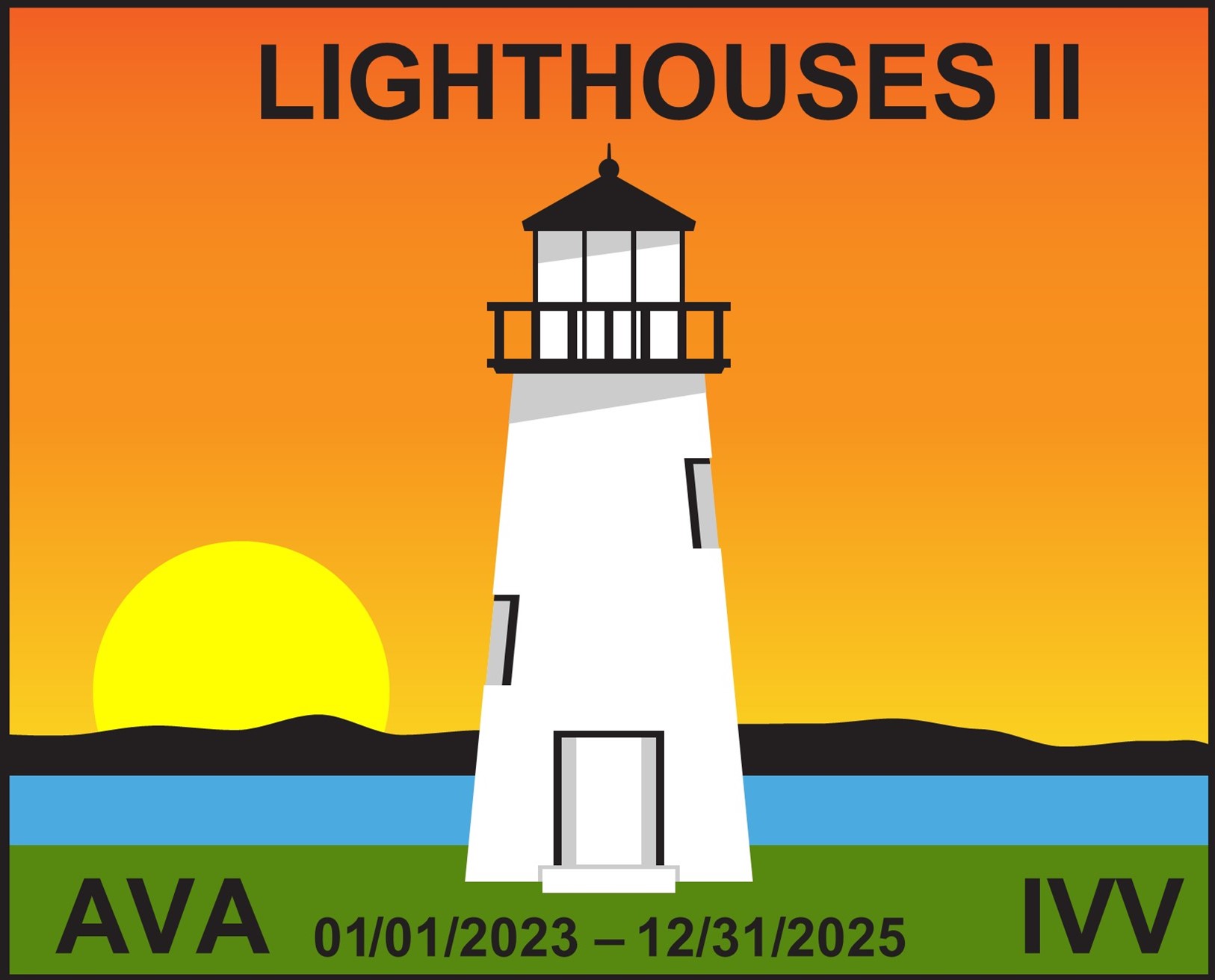 Lighthouses II
Program runs January 1, 2023 - December 31, 2025. Redeem completed books by December 31, 2026. Beacons from coast to coast, lighthouses are linked historically to the development of maritime expertise and used to warn of dangerous conditions so as to secure safe passage. The US Lighthouse Society has listed under the J. Candace Clifford Lighthouse Catalog page after page of descriptions taken from the National Park Service Inventory. With approximately 700 lighthouses in the United States the Qualifier must include any sanctioned IVV event (traditional, seasonal or YRE) that passes or is in view of a lighthouse. One stamp per event per year. IVV participants outside of the United States are welcome to register and participate while logging lighthouses along any IVV event. Cost of book is $12 USD. Complete 12 walks to receive a patch featuring a lighthouse and also a completion certificate. Make checks payable to the Baltimore Walking Club. Books can be ordered from POC: Sue Capp, 100 Grace Manor Drive, Havre de Grace MD 21078. Phone - (717) 968-6611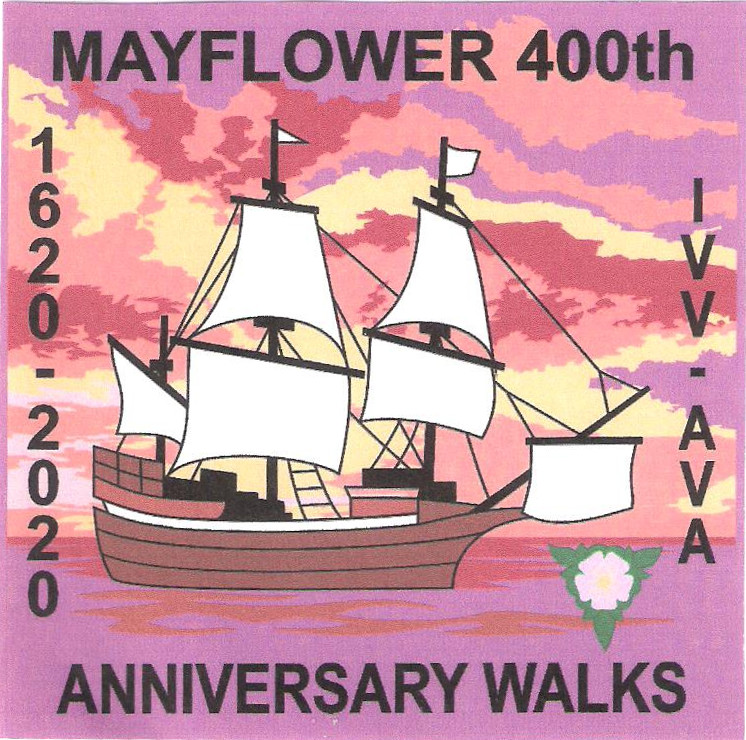 Mayflower - 400th Anniversary Walk
Program runs January 1, 2020 – December 31, 2022. Redeem completed books by Dec 31, 2023. This program ties into Plymouth, MA, with its iconic Mayflower, site of a large 400th Anniversary in 2020, with events leading up to it and celebrated throughout the country. It also ties into the pilgrim story and Native Americans. Qualifiers may include an Indian Museum or statue (any tribe) on route, a full list of surnames of Mayflower Passengers, will be sent out with the booklet. Examples include: Mayflower, Cape Cod, Thanksgiving (any walk done on that day), Surnames: Brewster, Rogers and many more. Walkers are encouraged to walk in Plymouth or by a Mayflower Hotel, or street, monument or sign with some connection will qualify. Passing a Mayflower moving truck or a Plymouth car do not qualify but a building with Mayflower or Plymouth name on it will qualify. Cost of book is $10. Qualifier of 12 sanctioned events(one time per event per year). Patch is 4 X 4" embroidered of the Mayflower in Plymouth Harbor, MA. Make checks payable to Twin State Volkssport Asso. Order books from Carolyn Adams, 23 Terry Hill Rd, South Ryegate VT 05069 carri757@gmail.com 802-757-2500.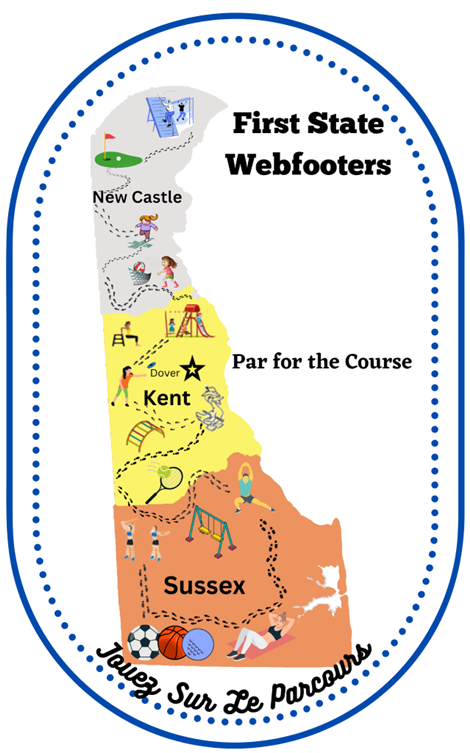 Par for the Course
Program runs January 1, 2023 - December 31, 2025. Redeem completed books by December 31, 2026. Fitness for all ages is a core value of America's Walking Club and its programs. Family is an important part of AVA's future. During this special program, participants will be collecting IVV event stamps (each event stamp may only be used once per year) for event trails that go past outdoor physical activities including but not limited to: exercise stations (par course/stations), golf (frisbee and miniature too), playgrounds, baseball, basketball, soccer, bocce ball, racquetball sports, volleyball, hop scotch and the list goes on. Examples of non qualifiers are skateboard parks, bike parks, treasure hunting and geocaching. Participants are encouraged to find their inner child and "play on the path*" with family and friends. The special program is hosted by the First State Webfooters of Delaware. There will be 3 levels of awards, Bronze, Silver and Gold magnets. You must complete one book per award. To purchase a book please make out a check for $12 (per book) payable to the "First State Webfooters". Mail your request and check to: First State Webfooters, c/o Karen Kaufman, P.O. Box 2041, Dover AFB, DE 19902-5510. For more information, contact Karen Kaufman at fswpcsp@gmail.com 302-233-6615.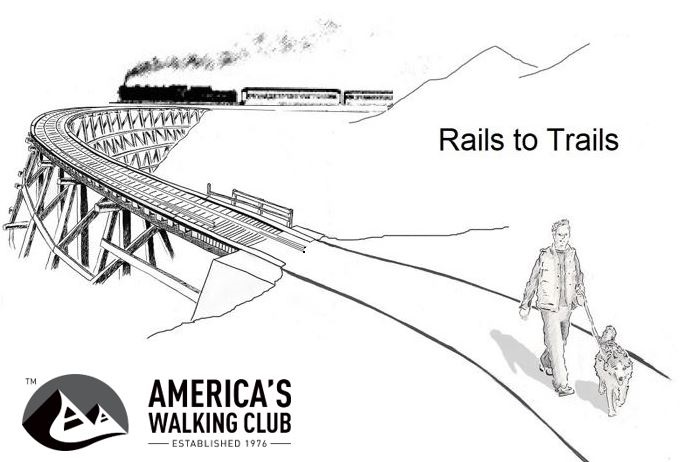 Rails-to-Trails
Program runs January 1, 2022 - December 31, 2025. Redeem completed books by Dec. 31, 2026. Any sanctioned YRE, seasonal, or traditional event that walks/bikes on a portion of an official Rails-to-Trails Conservancy identified trail (which can be found at https://www.traillink.com/trailsearch/ ) qualifies. One stamp per event per year except for "Guided Trail" events which use the same stamp – in this case the sanction number identifies a unique event. Special Program Booklet contains room for 16 stamps. To purchase a Special Program Booklet, send check for $12 to Colorado Springs Walking Club; 3524 N. Cascade Ave, Lot #58; Colorado Springs, CO 80907. You may mail your completed book to Sherry Sayers, 3524 N. Cascade Ave., #58, Colorado Springs, CO 80907, or scan image of your completed book and email it to cswc@avaclubs.org. A 3"x4" award patch similar to the one pictured here will then be mailed to you. POC: Sherry Sayers, 719-640-6745, cswc@avaclubs.org.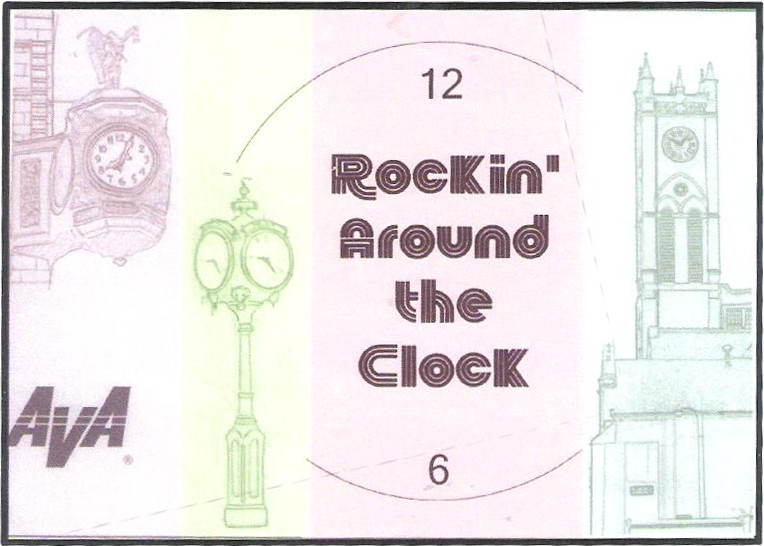 Rockin' Around the Clock
Program runs from January 1, 2020 – December 31, 2022. Redeem completed books by Dec 31, 2023. This program is intended to challenge participants to find public clocks while out enjoying volkssporting events. A clock tower is a tower specifically built with one or more clock faces. Clock towers can be either freestanding or part of a church or municipal building such as a town hall. Astronomical clocks that show astronomical information, as well as the time, can be so classified. Town clocks or Public clocks are intended to be seen and of use by the general public in town squares, plazas, city halls, courthouses, train and bus stations, parks and more. Qualifiers are 24 different AVA sanctioned events that include a public clock, clock & repair shop (if clocks are the primary business) or clock museum. Only one use of the IVV Stamp is allowed for each qualifier per year. Non qualifiers: garden sundials, no billboard advertising sign count, clocks in other museums other than a clock museum, clocks inside buildings or seen through windows do NOT qualify unless the clock or clocks are the primary focus of the building or the clock has particular special or historical significance. Make note of the style of clock and/or where the clock is located. EX: St Peter's Church, tower or Bryan Town Square or Daily News Building, etc. Cost of book is $10. Patch is 3 X 4 " patch depicting a variety of public clocks. Make checks to Maumee Valley Volkssporters. Order the books from POC: Vivian Lijewski, 4710 Glendale Ave. Suite 201, Toledo OH 43614. Phone - 419-385-3904
Town Halls/City Halls
The program runs 1 January 2022 to 31 December 2024. Redeem completed books by 31 December 2025. Complete 15 AVA sanctioned walks that include a town/city hall building must be marked as such or have a plaque as a historic site of one. A hall may only be used once, even if multiple walks go by it. The patch (image soon to be added) depicts the Ashland town hall and the Fredericksburg city hall, both in Virginia. Cost of the program is $10. Order books from Peninsula Pathfinders, 302 Queens Crescent, Williamsburg, VA 23185. Make checks payable to Peninsula Pathfinders POC: Sandy Croushore, (757) 532-3468, szcroushore@verizon.net.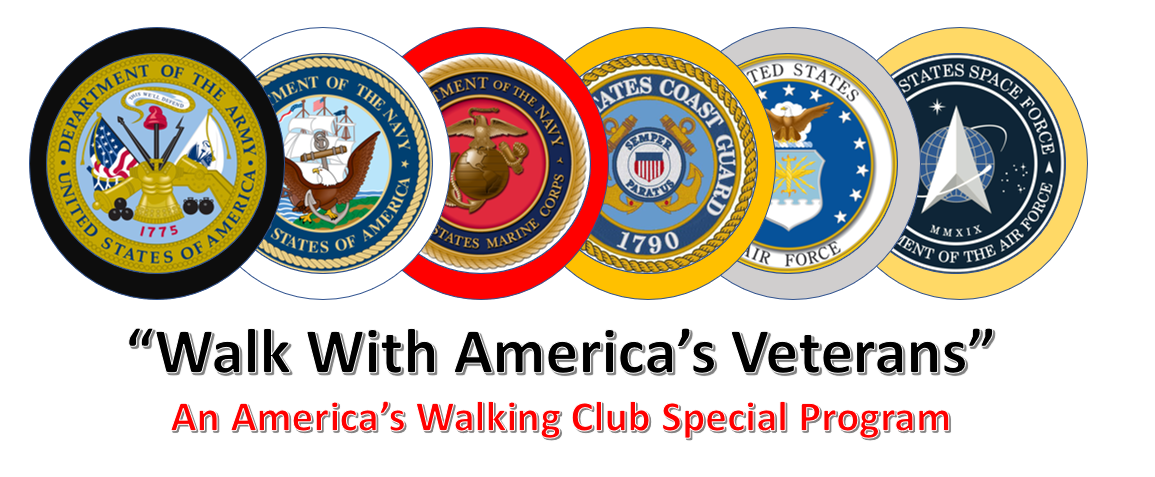 Walking with America's Veterans
Program runs from January 1, 2021 – December 31, 2027. Redeem completed books by Dec 31, 2028. The goal of this special program is to walk for fitness while discovering the many ways our country's veterans are honored for their military service. "Collect" 15 different qualifiers in the logbooks for 6 different awards which are military "challenge" coins that honor the six military services. ONE qualifier is collected with each AVA: America's Walking Club stamp. When in doubt about a qualifier, post a question with a picture in the new Facebook group created to administer and discuss this special program, or ask the POC below. All qualifiers must be for military service from 1890 to the present, nothing earlier (Revolutionary or Civil War) will count. Each "entry" in the logbook is an AVA-stamp PLUS the name/ picture/ description of the qualifier and location. When using a TGW or GW stamp, the six digit event sanction number is also required. Qualifiers can only be used once in a book or in a year, whichever comes first. (A new year on the AVA stamp allows a repeat of the qualifier in the same book.) Each qualifier is:
An individual fixed memorial, identifiable on any civic map.
A local display program that honors veterans (all similar and related banners, for example, are ONE qualifier as a single "program").
A building that is the location of any veterans' organization, or any government body that supports veterans.
A memorial to victims of 9/11 attacks that identifies the Pentagon by name, or a veteran who was killed on that day.
A road marker giving "Blue Star" or other designation to honor a GROUP of veterans, or a park or space that honors veterans. (NOT individuals unless the "memorial" name is for a veteran who is being honored for military service --usually KIA-- not just a politician or other notable who was a veteran.)
Individual grave markers or headstones for veterans do not qualify.
Order books for $12 each with check made out to "US FreedomWalk Festival Club" and mail to: Veteran's Walking Program, c/o Volksmarching Club, PO Box 2422, Woodbridge, Virginia 22195. POC: Tim Miner, Veterans@WalkVirginia.Org , Phone 703-583-2916, Facebook Group: https://www.facebook.com/groups/421653078810337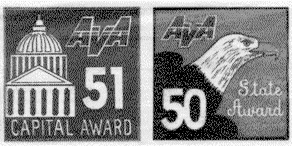 Walking the United States (50 States/51 Capitals)
No ending date. Earn special recognition! Complete an AVA walk in all 50 states or in all 50 state capitals and Washington, D.C. The basic state or capital program earns a certificate. Order your "Walking the United States" record book directly from AVA Headquarters, Attn: AVA National Office, 1008 S. Alamo St., San Antonio, TX 78210. E-mail questions to Karen@ava.org. Books are $5.00 each (includes shipping). A separate book is required for each program — order two books if participating in both programs. An optional Deluxe Package is available upon completion that includes a state or capital certificate, a large patch, and a patriotic T-shirt. Details are on the back of each book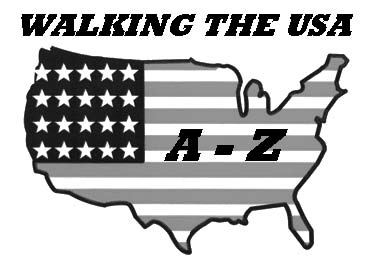 Walking the USA A – Z
No ending date. Walk 26 cities — A to Z. For example walk in Albany for A, Zanesville for Z, etc. The program will continue indefinitely as long as there is interest. Mail payment of $8.00 (includes shipping) to purchase an event book. Once you have completed the event book you qualify to receive a beautiful patch. Note: X is a wildcard and can be a walk at any event that is not already marked for the program. Xenia is still an option. Make a copy of your book prior to mailing the original to: AVA Headquarters, Attn: A–Z Program, 1008 S. Alamo St., San Antonio, TX 78210. E-mail questions to Karen@ava.org.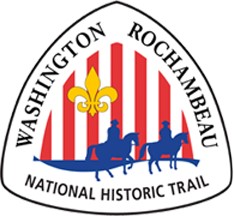 Washington-Rochambeau National Historic Trail
Program runs from September 1, 2022 and ends December 31, 2031. Redeem books by December 31, 2032. Join with the Washington-Rochambeau Revolutionary Route Association, Inc. (W3R-US), the National Park Service (NPS), and America's Walking Club (AVA) at the state, region, and national levels, as we begin to celebrate the 250th anniversary of founding of the country, and the young nation's very first international walking journey. In 1781, the new allies from France landed an army, under the command of Marshal Jean-Baptiste Donatien de Vimeur, comte de Rochambeau, in Rhode Island to join forces with the Colonial Army under General George Washington, to journey through nine colonies and what is now the nation's capital city on their way to the final victory of the Revolutionary War in Yorktown, Virginia. The NATIONAL program asks you to walk or bike ONE AVA event in each of the states and Washington, D.C., along the Washington-Rochambeau National Historic Trail or at a location historically linked to the journey. (This was a corridor with many sites not actually on the current NPS driving route.) There will be additional but separate state and region programs associated with this event. The national award will be a neck-worn medal. State and region programs will award pins to be placed on the neck medal. For more information on:
The NATIONAL logbook is available for $15 from Virginia Volkssport Association, c/o Wood 'n Dale Wanderers, PO Box 2422, Woodbridge, Virginia 22195 POC: Tim Miner, timothy.miner@walkvirginia.org , Phone 703-583-2916