Let's Get Started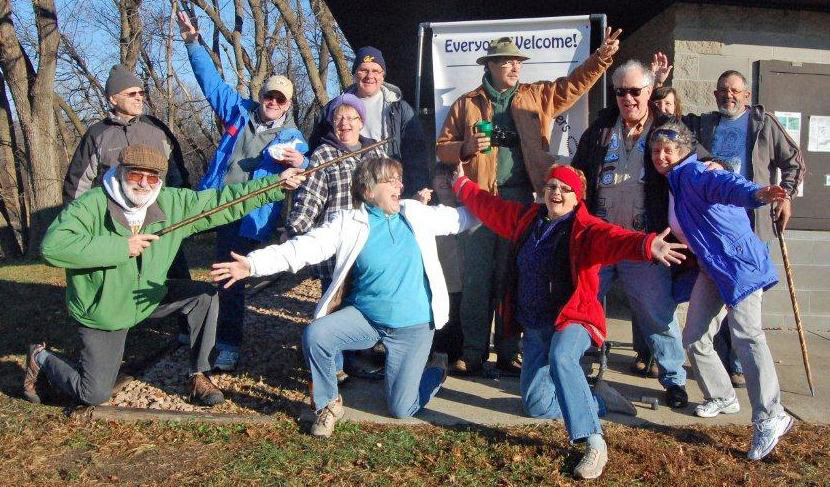 To Locate Events:
Visit the "Locate Events" link (or click on the link to the left), select the "State" you are interested in, then click "Search Events". Call or email the local club "Point of Contact" for information about upcoming events, or if you have any other concerns such as; how easy or difficult, directions to the start location, hours of operation, pet restrictions, wheelchair or stroller accessibility. Water: You should ask about the availability of water before starting. It is a good idea to bring your own (filled) water bottle along. If you have any health problems, consult with your physician to determine how you should prepare for a two-hour walk. You should ask about the availability of restrooms along the trail before starting. Wear comfortable walking shoes you have already broken in. Dress for the weather. Layers are always a good idea - you will probably warm up once on the trail, but may want a jacket or umbrella.
To find the nearest AVA Club:
If no events are listed for your "City" or "State", visit the "Locate Clubs" link (or click on the link to the left), click the "State" you are interested in, and locate a Club near you. Call or email the Club for more event information near you.

Come to the Event and Register:
For rare events, you must pre-register. Be sure to ask the Club when you call them ahead of time. Most events that have an award allow you to pre-register by mail to ensure you get your award at the event. You can usually register at the "Start Point" of an event. At the Start Point, fill out a "Start Card" and pay the appropriate fee.
Traditional Events
are usually one or two day events, and the hosting Club will be at the Start Point, Check Points and Finish Table.
Year Round and Seasonal Events:
These types of events will instruct you to register at a "Walk Box". Visit the link to the left for more information.
New Walkers Program Packet:
If you are walking for "IVV Credit", IVV Record Books are sold by the clubs (if available). In the USA the Event and Distance books are $6 each, and are honored worldwide. An incentive for a "new walker" is to buy the "New Walkers Program Packet
" and receive the first set of (2) IVV Record Books at a big discount. In this New Walker Program Packet, you get both an Event record book and a Distance record book for a total of $5.00 each. If you order from AVA Headquarters the cost is $11.50 (includes $1.50 shipping and handling). Visit the link above to purchase one packet, per participant. Remove the IVV Record Books and put your name and mailing address on them. If a packet is not available for purchase, you may use an "Insert Card" to place the IVV Certification Stamp in until you are able to purchase a packet.
Selecting a trail and distance:
The standard trail length is 10 km (6.2 miles) and you are allowed to complete it twice on the same start card. A shorter 5 km distance (3.1 miles) may be offered for those who need it. Many events have more than one trail available, so be sure to inquire about length and difficulty and choose the trail(s) that you will enjoy the most. Also, inquire about the"trail rating". Get on the trail. The club may provide a map and directions, and/or have marked the trail with ribbons, arrows, or chalk. Be sure to ask what markings to look for. Walk at your own pace. Go as fast or as slow as you want. Run or powerwalk if you want to go aerobic. Stroll if you wish. Stop to picnic, shop, or sightsee if you want. Just be sure you can complete the trail by the official finish time.
How long does it take to complete a 10 km trail?
At a very easy pace, it takes most people 2 hours. If you are a power walker, you will finish in an hour and a half or less. More difficult trails take longer.
Checkpoints:
There should be one or more "checkpoints"along the trail. Usually these are staffed by friendly club members. Take the time to have some water, maybe a little treat, and chat with them. Present your "start card" to be stamped. Checkpoints will often have water, hard candies or pretzels. Some start points also sell food. Bring snacks if you think you will get hungry.
Finish and Awards
Finish:
Turn in your "start card" at the finish table. Now you get your medal, patch, pin or other award if you registered for it at the start. If you didn't and now you want one, just ask for an upgrade and pay the fee. IVV Record Books Stamping:
This is where you will get your "IVV Record Books" stamped if you registered for the award or for "IVV credit". You may place the stamp in your distance and event books as many times as you complete the event, however, you must pay an additional fee for a new "start card" each time. If you bought a "New Walkers Program Packet", open it and take out the "IVV Record Books" and present them for stamping. Be sure to bring your IVV Record Books to each event. If you forget, ask about getting an "Insert Card" stamped. Never cut or paste in insert cards, send them inside your book to AVA National Headquarters later on for processing.
Info on Upcoming Events:



You will be able to pick up brochures on upcoming events on the "Information Table". If you forget, simply click on the "Locate Walking Events" link on our web site to find details on future events.

Relax and meet new friends:

We welcome new walkers and hope you take the time to visit with the club members and other walkers at the finish. Ask about how to join the local club.

Completing an IVV Event or Distance Record Book:
When the IVV Record Book is full, make a copy for your records and mail the original book to the address listed on the front (to AVA for USA walkers). IVV Achievement Award Program: Earn awards by walking events and distance at volkssport events worldwide. Redeem your IVV Record Books at milestones such as 10 events, 30 events, 500 kilometers, 1000 kilometers for a certificate, patch, or hatpin (if available) to display your achievement. Be sure to then buy a new set of books at the next event to keep going while the AVA processes your books and sends you back your IVV Achievement Award.

The cost per book is $6.00 each.

Shipping price for one (1) to four (4) books is $1.50 total.

AVA processing address: 1008 S. Alamo St., San Antono, TX 78210. Visit the link above for more information.

IVV Record of Achievement Book:
After you redeem your first record book, the AVA sends you a small passbook (IVV Record of Achievement Book) that you need to mail to AVA when redeeming completed books in the future. Don't worry about this when redeeming your first book - you won't have it yet!

What is Volksmarching?
Visit the link above for more details on Volksmarching and definitions. Hope to see you on the trail soon!